If your desk or work space is a disaster area, does that mean you are a creative dynamo, a genius even, or just a run-of-the-mill slob?
The debate rages on!
Few may push the notion that order is a bad. But we've all heard the classic argument in favor of disorder:
I know exactly where everything is!
You yourself may even have employed Einstein's famous dictum:
If a cluttered desk is the sign of a cluttered mind, of what then is an empty desk a sign of?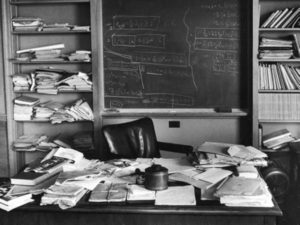 Famous image of Einstein's workspace.
In fact, people on both sides of this issue have some evidence to make their case.
Research shows: orderly environments encourage good behavior and healthy decision making. The same research supports a strong correlation between disorderly environments and creativity.
But there is a critical difference.
The so called "clutter" of creative environments bears no resemblance to the piles of miscellany attending the workspace of a serial procrastinator!
Work-in-Process vs. Storage
The principle at work here hinges on the following distinction:
How much of your space are you using for active work-in-process, versus the amount you're using as a parking zone for accumulated items?
Items parked in your 'work space' reduce the amount of space you have to work in. – Go ahead and let that sink in for a moment…
Parked items become clutter, in spite of your intentions to get back to them at some point. Your desk has become a storage area. And it's crap, even if there is some semblance of order to it.
But the glorious disarray of work-in-process (WIP) items is something else!
The space that work is happening in or on includes items that are inputs, outputs and stuff that is somewhere in-between. Everything is moving, changing, transforming!
It's a mess, for sure. But it is juicy – somehow – not dusty, you know?
Functional, if not Optimal
This principle applies to personal and professional space, as well as physical or virtual environments.
NOTE: An important caveat involves "production" versus free-form "creative" situations. For production, there must be a rhyme and reason to the WIP. It ensures timely and repeatable results. But WIP is still distinct from storage. And the standard for such WIP should result from a (creative) process of trial and error (a process that will appear chaotic while in development).
Relative to how much independent control you have over your own space, the key is to ensure that it remains functional for you, if not optimal.
The desk in my home office always has:
One or two notebooks and my copy of The Daily Stoic
A short stack of books (that I'm reading or referencing)
Some paperwork, functioning as a "to-do" pile
2-3 pens and two pairs of reading glasses (a set goes with me when I leave)
A computer monitor, speakers, mouse pad and room for a laptop
A couple trinkets and a small replica of the Venus De Milo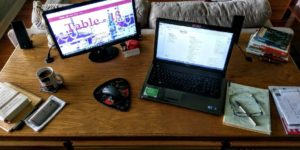 This is a good set up for me. A lot of my work-in-process is digital, so I have the two computer screens to work from. But I have a large desk and like to spread out my books and hand written notes as necessary.
I'm as prone to accumulate random things as anyone else, so I "clean house" on a weekly basis and get things back to (my own) standard.
Your employer may require a more Spartan arrangement than you would choose. It's no problem if you have a system:
1. Come to terms with WIP versus Storage
2. Know, or set, the tolerance for "whimsy" items (practice minimalism as a rule)
3. Experiment with the arrangement of items to help you be more productive (ergonomics and feng shui are fair considerations)
4. As needed, treat the slower work-in-process items as storage items and find a better home for them
The storage of items on your desk and the disorder of work-in-process items are variables that can be 'dialed' up or down. A good system is scalable to the boss's expectations (or the temporary need to straighten up for a tour or party).
If there is an inch of dust on your so called "filing system," you may want to rethink the use of your space.
But if you're engaging in creative effort, then go crazy! Spread things out –
You're going to have some supplies. You may have piles of failed attempts, sketches, rough drafts and on-their-way-to-prototypes. – Go for it! Make no apologies!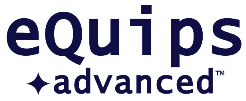 Your comments and feedback are important! Please see the Table-13 Code of Conduct before leaving a reply. All comments are moderated.
Tags:
creativity
,
disorder
,
order
,
organization
,
productivity